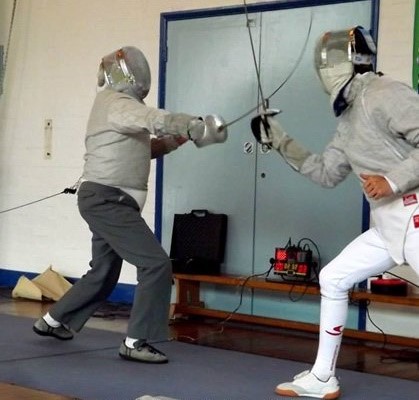 It is with sadness we would like to inform that John, a Welsh Veteran fencer, and a member of Bangor University Fencing Club for about 20 years, passed away on Saturday 28th of January. He joined the club in his late 60s shortly before his retirement as a Senior Lecturer. Despite being a complete novice, he showed such natural aptitude.
An absolute gent, he soon represented the Welsh Veterans internationally and only stopped fencing competitively when he was well into his 80s. He continued attending club sessions for practice bouts, referee and was a feature at many of the club's social events. He had such wonderful stories. Despite the large age gap, John endeared himself to student members and formed several friendships, to the extent that a group of past and current members attended his 80th Birthday celebrations and provided a crossed swords guard of honour.
He treasured these inter-generational friendships and valued the exercise, camaraderie, and fun of being a member of the club. Our condolences go out to all his friends and family.